Everyone knows what is intermittent fasting. It is one of the widely adopted practices by individuals around the world besides working out. Though it is a great way to attain a lean body, some of you might not be aware of it entirely.
Most of us succeed in the fasting phase like we are victorious in keeping ourselves away from food. The point where we lag behind is the eating phase. If you are eating unhealthy food items in your eating window after fasting, the last 8, 12, or 24 hours of fasting are of no use. Along with patiently carrying yourself through the fasting phase, it is equally critical to be disciplined in the eating window.
Now, which food item is good for you after fasting? How should you consume it? What is the quantity? There might be many questions whirling in your mind. Read ahead to get the answers to this question!
Recipes to Break a Fast in a Fruitful Way!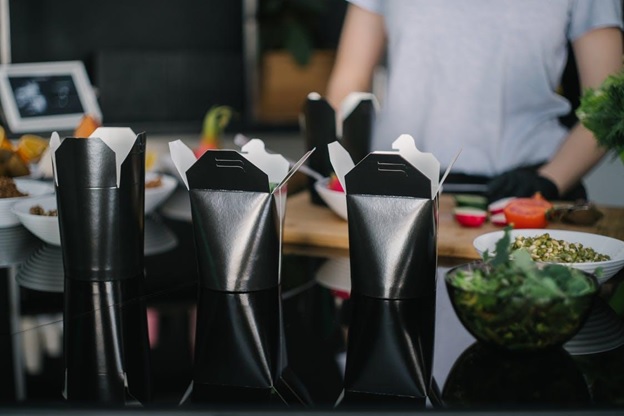 It may seem rewarding to eat anything you want after a long fasting window. But, if your final goal is weight loss, you have to be careful about what you put inside your body.
You may cover up the calorie requirement but may lose out on some crucial nutrients required to fuel your body. If you want a balanced and healthy diet to break your fast, here are some recipes for you!
PB&J Overnight Oats
Oats are the all-time favorite food. Though it is an ideal choice to break your fast, it may not make you feel full. So, you may have to eat something after it. Here is a quick recipe for PB&J Overnight Oats.
Ingredients:
¼ cup quick-cooking rolled oats
¼ cup mashed raspberries
½ cup 2% milk
3 tbsp whole raspberries
3 tbsp creamy peanut butter
Procedure:
Take a medium bowl. Add and combine milk, rolled oats, mashed raspberries, and peanut butter. Mix well until the mixture is smooth.
Cover and refrigerate the mixture overnight.
Uncover the mixture in the morning, top it with raspberries and enjoy.
Note: You have to prepare for this dish a night before you consume it.
Nutritional Value: Calories 455, Protein 20 g, Carbs 36 g (9 g fiber), Fat 28 g
Avocado Ricotta Toast
Avocados are one of the most healthy food items to break a fast. They are low in calories and have some of the crucial antioxidants and micronutrients. Here is a quick Avocado recipe!
Ingredients:
1 slice of whole-grain bread
Pinch crushed red pepper flakes
¼ ripe and smashed avocado
Pinch flaky sea salt
2 tbsp ricotta
Procedure:
Toast the whole-grain bread.
Top with red pepper flakes, avocados, sea salt, and ricotta. Enjoy!
Note: It is best to eat it with boiled eggs or scrambled eggs. You can also add a serving of fruit or yogurt.
Nutritional Value: Calories 288, Protein 10 g, Carbs 29 g, Fat 17 g
Turkish Eggs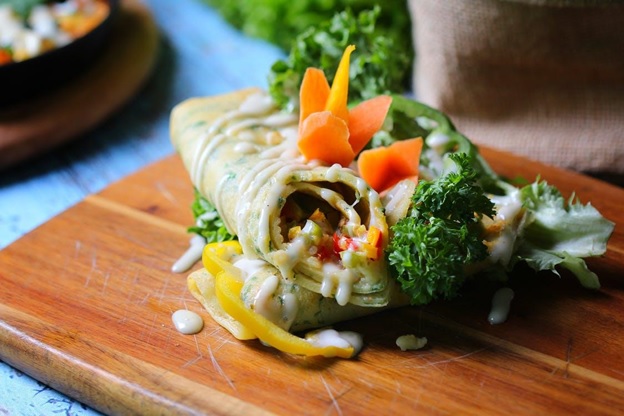 Eggs rank above other foods in terms of nutrition to quantity ratio. Eggs can provide your body with more proteins within less quantity. Check out this Turkish eggs recipe that also has some other crucial food items.
Ingredients:
2 tbsp olive oil
¾ cup diced eggplant
¾ cup diced red bell pepper
Pinch each of salt and pepper
¼ tsp paprika
5 large eggs, lightly beaten
2 dollops plain yogurt
Chopped cilantro, to taste
1 whole-wheat pita
Procedure:
Take a non-stick skillet and heat olive oil at medium heat.
Once properly heated, add other ingredients like eggplant, bell pepper, salt, and pepper. Saute them for about 7 minutes.
After the ingredients are a bit soft, add eggs along with paprika, salt, and pepper for taste.
Allows the eggs to scramble and be soft.
Once the eggs are soft, serve them by sprinkling chopped cilantro.
Note: You can also serve them along with a pita and a dollop of yogurt.
Nutritional Value: Calories 469, Protein 25 g, Carbs 26 g (4 g fiber), Fat 29 g
Almond Apple Spice Muffins
If you are down for something sweet, you can try the Almond Apple Spice Muffins. They can help you break your fast and maintain healthy eating habits.
Ingredients:
½ stick butter
2 cups almond meal
4 large eggs
1 cup unsweetened applesauce
2 tsp baking powder
4 scoops vanilla protein powder
1 tbsp cinnamon
1 tsp allspice
1 tsp cloves
Procedure:
Begin preheating the oven at 350°F.
Take a small microwaveable bowl, add butter to it and melt it.
Now, take a large bowl and mix up all the ingredients along with the melted butter.
Take a muffin tin and spray non-stick cooking spray on it.
Pour the mixture carefully into the tin. Make the muffin holes ¾ full.
Place the tray in the oven and bake for around 12 minutes.
Note: Make sure the oven is preheated, and don't bake the muffins for more than 12 minutes.
Nutritional Value: Calories 484, Protein 40 g, Carbs 16 g (5 g fiber), Fat 31 g
Conclusion
If you are following an intermittent fasting schedule, you have to keep your eating habits in control. And you have full liberty to try out these recipes to break your fast. Moreover, you can also look into the best foods to eat during fasting and their benefits.